World Book Day 2021
Roll up, roll up! Here's everything you need to know about World Book Day 2021 at Titus Salt School
Well nearly everything – because lots of stuff about World Book Day is on the World Book Day website (click below to have a look but don't forget to come back here again because we have further information and inspiration on how to spend your World Book Day on Thursday 4 March – see more below).
In many of your subject classes on World Book Day itself (Thursday March 4 2021) your teachers will be talking about their favourite books.  Hopefully this will inspire you to read, share some stories and take part in some of our activities. Get your whole family involved  and tell us about your World Book Day on Twitter @titussaltschool 
Book Vouchers
One of the main features of WBD in any year is that all school pupils are given a £1 book voucher. Usually we hand the vouchers out in school but because WBD this year falls on a day when school is not open for all pupils, we are sending you a special digital token. Click the token to find out more.
Get inspiration from previous World Book Days at Titus Salt for booky things to do at home this year.
We'd like to get all the family involved. Here are some suggestions for activities from previous years but you are welcome to do your own booky things and tell us what you have been up to by logging in to the library on Teams. Just bear in mind that the templates and instructions are from previous years so please adapt as necessary.
Create a Bookface
Take a look at our Bookface gallery from WBD 2020 and have a go at making your own. Can anyone come up with a Bookface family/group portrait?
Design a Character Bookmark
In 2019 pupils were invited to create a character bookmark. Get inspiration from our gallery and download a template and instructions for making your own. Get your family to help make a a whole bookmark family!
Flutter by our Book Bunting Gallery
Year 7s made a very, very long length of bunting.  Read the story and see some of our favourite designs. You'll find a a template and instructions for making your own. Get the the family involved and make and display a whole string of booky flags.
We asked parents, carers and school governors to tell us which books had made the biggest impression on them.  We had a huge number of responses and have made a random selection to show here in our gallery.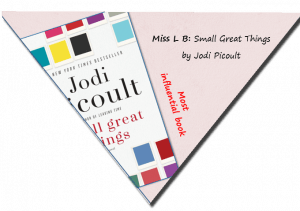 Take a #shelfie!
What does your book shelf look like? Take a photo of your own book shelf. Just remember this is a #shelfie, not a selfie so no people in the pictures please!
Whatever you decide to do this World Book Day let us know via twitter @titussaltschool or email read@titussaltschool.co.uk